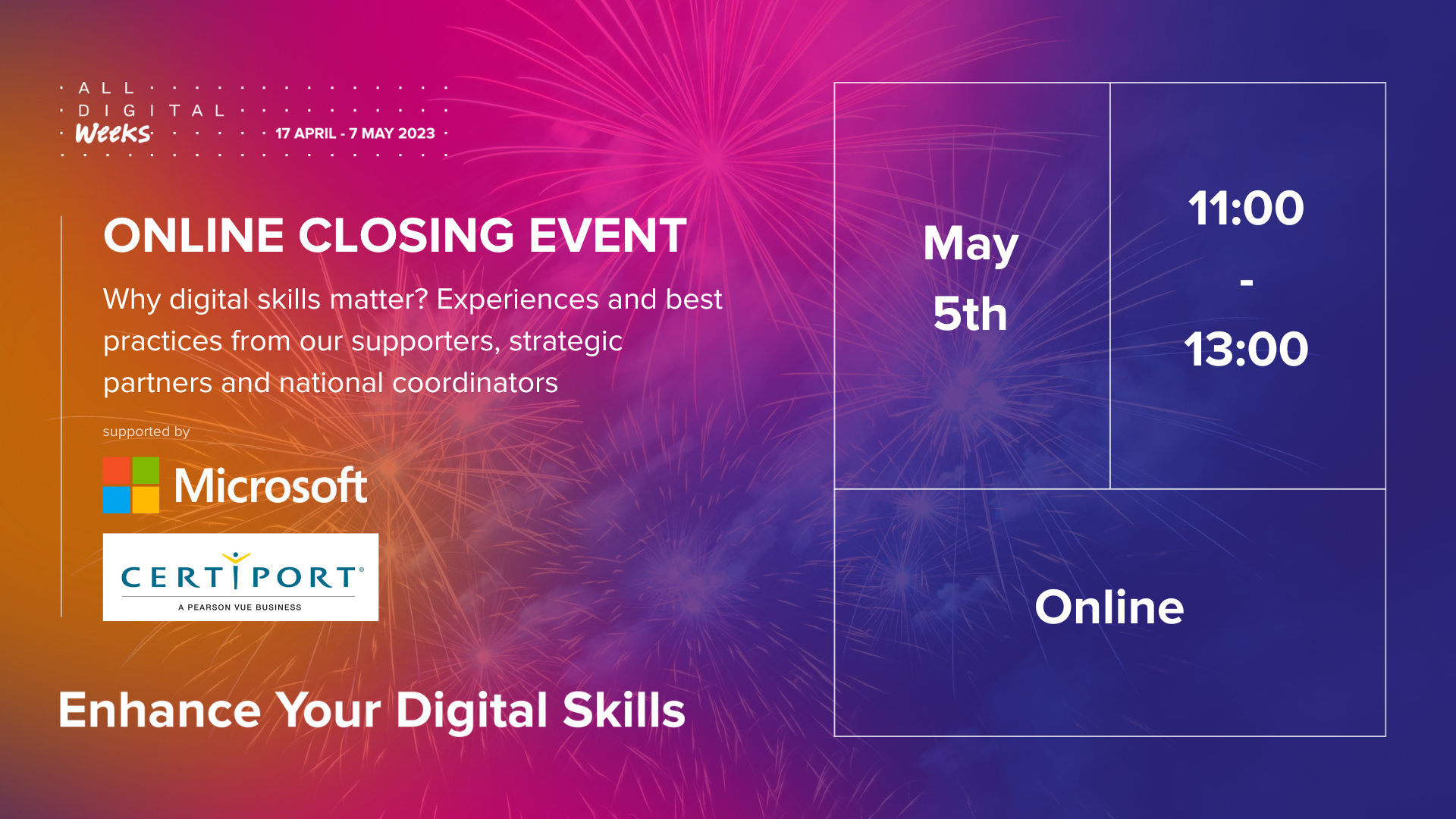 ALL DIGITAL Weeks 2023 Closing event
865
865 people viewed this event.
Join us at the closing event of the ALL DIGITAL Weeks 2023 campaign whose motto is "Enhance your digital skills".
Over the last months, especially during the last three weeks, we have been on an extraordinary journey and we are delighted to share with you our achievements and learnings on digital education, empowerment and inclusion.
The event will include keynote speeches on successful examples of digital skills programmes from our supporters Microsoft and Certiport. National coordinators and strategic partners will share their experiences and best practices. Lastly, the main results, activities and achievements of the campaign will be summed up.
Agenda
11.00 Introduction
Nenja Wolbers, ALL DIGITAL Deputy Chair of the Board and  Project Manager at Stiftung Digitale Chancen (SDC).
Peter Palvolgyi, ALL DIGITAL CEO
11.10 Keynote speeches – examples of successful digital skills programmes
11.10 – 11.20 – Andreea Calbeaza, Manager Digital & Green Economy, Microsoft
11.20 – 11.25 – Certiport presentation
11.25 – 11.30 – Norman Rohner, Policy Officer, ALL DIGITAL on the EDCS feasibility study
11.30 Campaign themes and national experiences
Key theme 1 – Digital Skills for "Equity, Diversity and Inclusion'' – from basic to advanced (11.30 – 11.42)
Introduction: Alicia Garcia-Madrid Colado, Manager of European Social-labour Inclusion Programmes, Accion contra el Hambre (Strategic partner)
Fulvio Ananasso, President, Stati Generali dell'Innovazione (Italy)
National event organisers:

Sabrina Grigolo, expert patient on digital technologies certified by UnitelmaSapienza University
Key theme 2 – DigComp and Digital Skills Certifications (11.42 – 11.54)
(MyDigiSkills, European Digital Skills Certificate, DigComp Hub)
Introduction: Certiport presentation (Supporter)
Iva Walterova, CEO, European Project Management Agency (EPMA, Czech Republic)
National event organiser:

Anne-Laure Michel, Digital Project Manager, Animafac presenting EduLeaders
Ludmila Kasalova, Chief Operations Officer, GUG.cz
Key theme 3 – Digital media literacy and culture (11.54 – 12.06)
Introduction: Dovile Dudenaite, Communications and Project Officer, Media and Learning Association (Strategic partner)
Miomir Rajcevic, President, Media Education Center (Serbia)
National event organisers:

Dr Stefan Mandic Rajcevic, Faculty of Medicine, Belgrade
Dr Branko Vujicic, Institut for Public Health, Šabac.
Key theme 4 – Cybersecurity and safer internet (12.06 – 12.18)
Introduction: Andreea Calbeaza, Manager Digital & Green Economy, Microsoft (Supporter)
Rosa Mendez, Responsible of Somos Digital Technical Office (Spain)
National event organisers, best practices

Gema Parrado,AUPEX (Speaker TBC)
Fundación Dédalo (Speaker TBC)
Key theme 5 – Digital Skills for Environment and Sustainability (12.18 – 12.30)
Introduction: Sotiria Tsalamani, EU Project Manager, European Association of Institutions for Vocational Training (EVBB) (Strategic partner)
Key theme 6 – Digital Skills for specific sectors (12.30 – 12.40)
Introduction: – Tom Scott-Redford, Policy and Communications Manager, Council of European Professional Informatics Societies (CEPIS) (Strategic partner)
Ronald Bieber, Secretary General, Austrian Computer Society (Austria) + national event organisers, best practices
12.40 Campaign Summary
Recap of key results, activities and achievements , Andrea Bedorin, ALL DIGITAL Senior Communications Officer.
Closing message, Peter Palvolgyi.
Speakers info
Andreea Calbeaza, Manager Digital & Green Economy, Microsoft
Andreea Calbeaza is part of Microsoft's Corporate, External and Legal Affairs (CELA) department, working at the intersection of topics driving the digital and green transformation of Microsoft's customers and with a decade of broader public and government affairs experience.
Prior to Microsoft, she worked as a fellow with the Open Society Foundations, as an advisor at the Romanian Ministry for Social Affairs and within the Secretariat of the Council of the European Union, acquiring a unique 360° perspective on digital transformation, from public sector to civil society and business. Andreea holds a BA in International Relations, an MA in European Affairs from the Institute for European Studies of the Université Libre de Bruxelles. She is also currently an MBA candidate at the Berlin School of Economics and Law, focusing on digital and green transformation and business sustainability management, and has spent time in China at the Beijing Language and Culture University.
Additional Details
Online or Hybrid event - No
Number of participants - 70