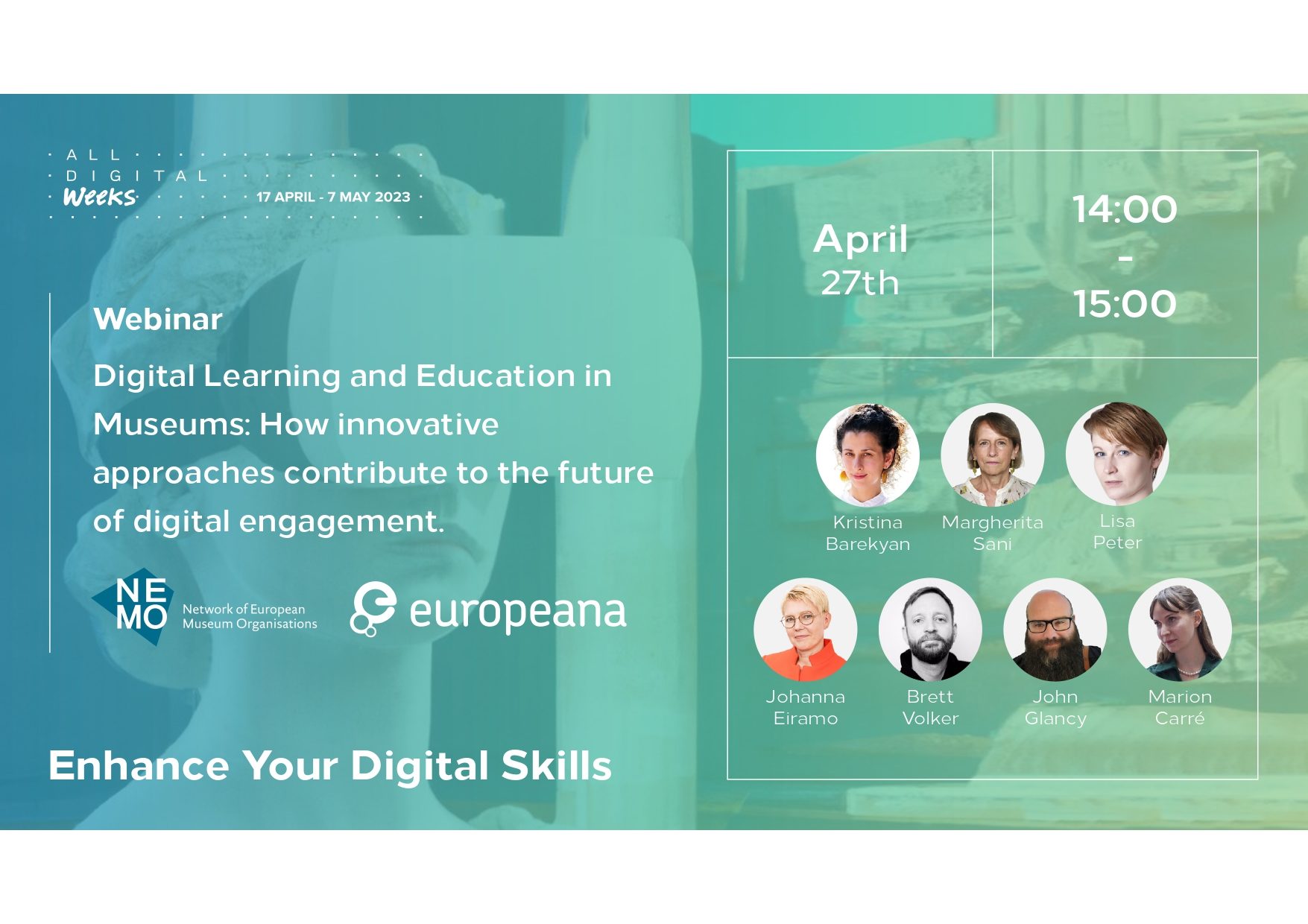 Digital Learning and Education in Museums: How innovative approaches contribute to the future of digital engagement.
846
846 people viewed this event.
How can Extended Reality, the Metaverse and AI Chatbots help audiences engage with cultural heritage institutions and the many exciting stories they can tell? How can open access support educational initiatives in the digital realm?
Join us to launch the report Digital Learning and Education in Museums: innovative approaches and insights, which was commissioned by the Network of European Museum Organisation (NEMO). The report's author Kristina Barekyan will be in conversation with a panel of experts interviewed for the report, discussing the opportunities and challenges of working on the cutting edge of technology, digital cultural heritage and museum learning.
The session will be facilitated by Lisa Peter, Co-Director, Midland Creative Projects Ltd.
We will be covering the following topics:
Opportunities and things to keep in mind around innovative technologies for the
museum sector
Biggest takeaways from projects and initiatives throughout Europe
Top tips for collaborating between technology companies and cultural heritage
organisations
Join us for exciting insights into innovative collaborations between the latest digital technologies and our collective past.
AGENDA
Hello & Welcome, Housekeeping – Lisa Peter, Co-Director, Midland Creative Projects Ltd.
Short introduction to Europeana and NEMO – Margherita Sani, NEMO project Coordinator.
Launching the report –

Kristina Barekyan, Museum Professional and Researcher.

Panel discussion & question – Lisa Peter:

3 mins for panellists to introduce themselves
Questions from facilitator (Lisa Peter)
Audience questions

 Wrap-up, thank you & goodbye –

Kristina Barekyan 
PANELLISTS
John Glancy, Digital Learning Section Head at Zayed National Museum.
Marion Carré

, Co- founder and President of Ask Mona.

Johanna Eiramo, Director of the Digital National Programme of the Finnish National Gallery.
Brett Volker, Head of Experience Design and Innovation at the Universal Hip Hop Museum.
SPEAKERS
Margherita Sani, Project Coordinator, NEMO. Adjunct professor at the University of Bologna, Margherita Sani worked in the Museum Department of the Institute for Cultural Heritage of the Emilia-Romagna Region from 1985 to 2021. She is an active member of international museum associations and networks, including ICOM, GEM – Group for Education in Museums – European Museum Academy and NEMO – Network of European Museum Organizations. From 2010 to 2019 she was a member of the NEMO executive board and she currently coordinates NEMO's Working Group on education 'LEM – The Learning Museum'. Since 2019 she has been a member of the board of Europeana Education and since December 2022 of the Executive Board of ICOM Italy.
Kristina Barekyan is a cultural professional with experience in museum management, international relations, research and digitalisation. She is particularly interested in how emerging technologies can be used to improve public access to arts and culture. Prior to her work on the report, she conducted research on the intersection of museum learning and digital innovations at the Network of European Museum Organisations, supported by the German Chancellor Fellowship of the Alexander von Humboldt Foundation. Her past work has involved collaborating with a number of institutions, including Documenta und Museum Fridericianum, the V & A Museum, the State Pushkin Museum of Fine Arts, Berlin State Museums, and MoMA. Kristina holds an MA degree in Arts Administration and Cultural Policy from Goldsmiths. She is the recipient of numerous fellowships and grants including the Volkswagen Fellowship, the International Fellowship of the Prussian Cultural Heritage Foundation and the UK Government's Chevening Scholarship. She is an executive board member of the Sculpture Network. 
Lisa Peter is a public engagement professional with experience in programme and audience development, digital transformation, project management and international partnerships. Her career has focussed on the development of wide-ranging engagement initiatives, often focusing on digital programmes. Whilst leading on projects with the BBC and the British Council and by managing EU-funded transnational projects, Lisa championed access to cultural content for harder-to-reach audiences. While working in a heritage-adjacent sector these days, Lisa remains involved with British and international cultural heritage organisations. She is a board member of the Wordsworth Trust and an executive committee member of the Digital Learning Network (DLNET). In addition, Lisa supports the Group for Education in Museums (GEM) as part of their International Task and Finish Group, and was a jury member of Europeana's Digital Storytelling Festival in 2022.
Johanna Eiramo is Director of the Digital National Gallery programme, aimed at supporting the creation and streamlining of digital products and services for art lovers. Her team's projects include pilots in web 2.0 such as digital ticketing and finding avenues for monetising online content. Web 3.0 projects include the Finnish Metagallery pilot project on Decentraland, published in October 2022. A second web 3.0 pilot project is in the planning phase. Previous to this position, Ms. Eiramo worked for the Ateneum Art Museum, part of the Finnish National Gallery, as Head of Communications.
Marion Carré is the CEO of Ask Mona: a startup developing AI solutions to facilitate the daily life of cultural professionals and improve the experience of their audiences. She teaches a course on art and artificial intelligence at Sorbonne University, Sciences Po Paris, French National Conservatory of Arts and Crafts and published a book on this subject. Marion Carré was selected as one of the Forbes 30 under 30 Europe 2023 list and the French 100 women of Culture 2022 award.
Brett Volker is Head of Experience Design and Innovation at the Universal Hip Hop Museum. He was previously the co-founder of the A_DA Group. The group included experience innovation and design studio, A_DA, the global sound and voice agency, Listen and Undercurrent, an innovative platform for music and art, partnering with NGOs to inspire action around critical issues shaping our lives. Volker's work with Ada and Listen has been highly awarded spanning 10 Clio Awards and three Cannes Lions with coverage across media outlets, including the New York Times, Fast Company, Forbes, Wired and The Verge. He has been a featured participant at Cannes, The Clios and SXSW – both judging and leading industry panels on creative collaboration and the future of music, art and technology. Prior to founding A_DA Volker enjoyed a successful career in the music business, holding a range of positions at record labels, live music, artist management in addition to global brand director roles for the Virgin Group.
Additional Details
Online or Hybrid event - No
Number of participants - 50