Registrations have closed.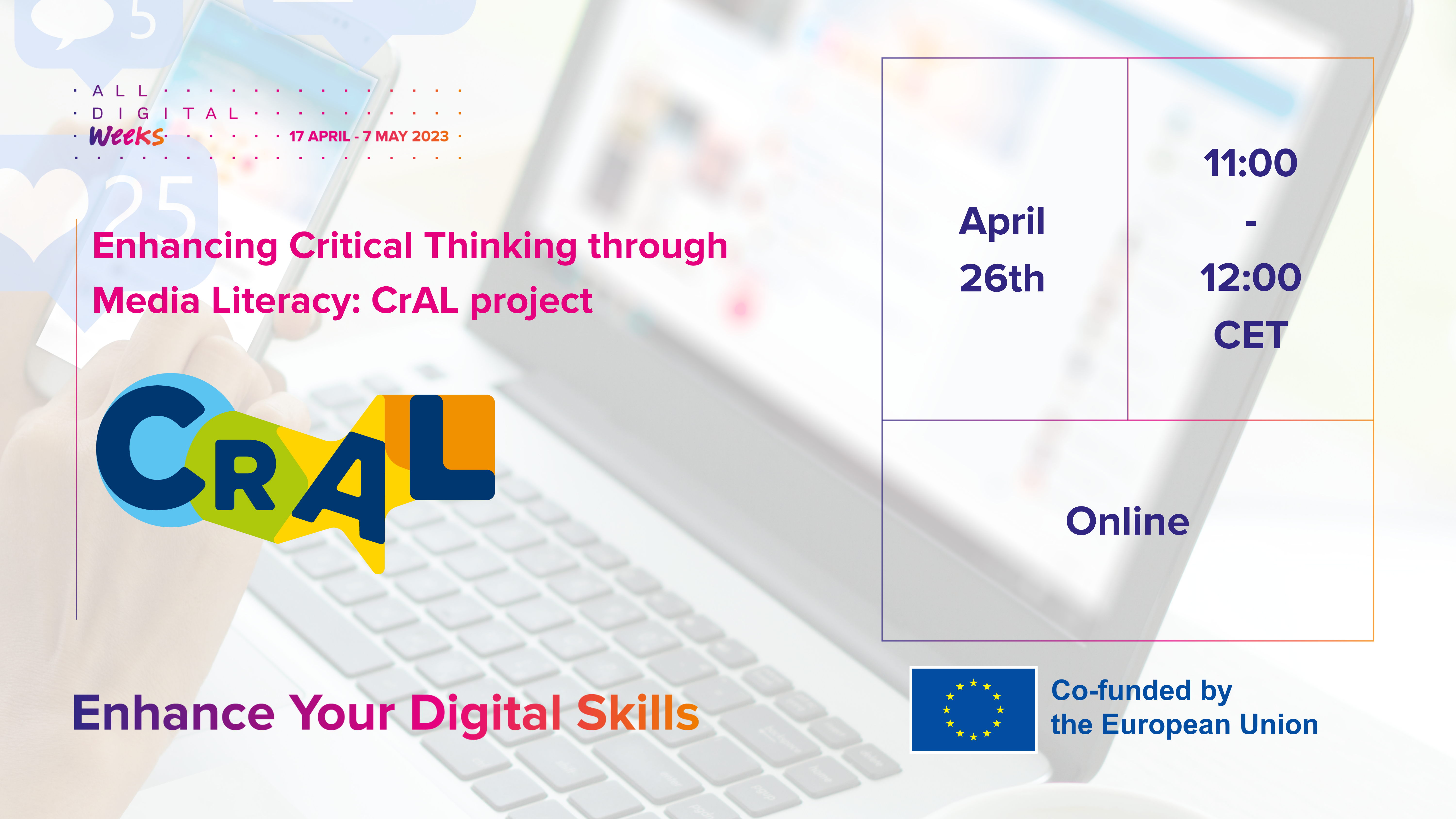 Enhancing Critical Thinking through Media Literacy: CrAL project
833
833 people viewed this event.
This event focuses on enhancing critical thinking through media literacy, by presenting the CrAL project (Creative Audiovisual Lab for the promotion of critical thinking and media literacy). This project contributes to providing young people with the tools they need to better understand the world they live in, stimulate their critical thinking and sense of responsibility, and help them to realise the power of their voice.
The event will begin by presenting the CrAL project, its aims and results. Followed by the introduction of the innovative CrAL methodology. Afterwards, participants will get first-hand experience with the CrAL in an activity based on the CrAL course. Lastly, the session will conclude with a Q&A and announcements of upcoming events.
Agenda:
11h00 – 11:05
Welcome to the ALL DIGITAL weeks (Peter Palvolgyi, CEO, ALL DIGITAL)
11:05 – 11:10
Event and CrAL project presentation (Dea Kralj, ALL DIGITAL)
Presentation
11:10 – 11:20
CrAL methodology presentation (Chiara Borsini, EGInA)
Presentation
11:20 – 11:35
Activity based on the CrAL course: CRaL Manifesto (ALL DIGITAL, EGInA)
Presenting the manifesto to participants
Asking the participants to search for a photo related to the manifesto and share it (e.g. padlet?)
Asking them to share why they choose that specific image and what it represents

With that we can also discuss the image / visual syntax and invite them to follow the course
11:35 – 11:50 – CrAL platform presentation (Eleni Georgakakou, HOU)
Presentation
11:50 – 12:00 – Q&A session, closing
Speakers:
 Peter Palvolgyi, CEO, ALL DIGITAL
Chiara Borsini, EGInA – project partner
Dea Kralj, Project Officer, ALL DIGITAL – project coordinator
Eleni Georgakakou, HOU – project partner
Additional Details
Online or Hybrid event - No
Number of participants - 15