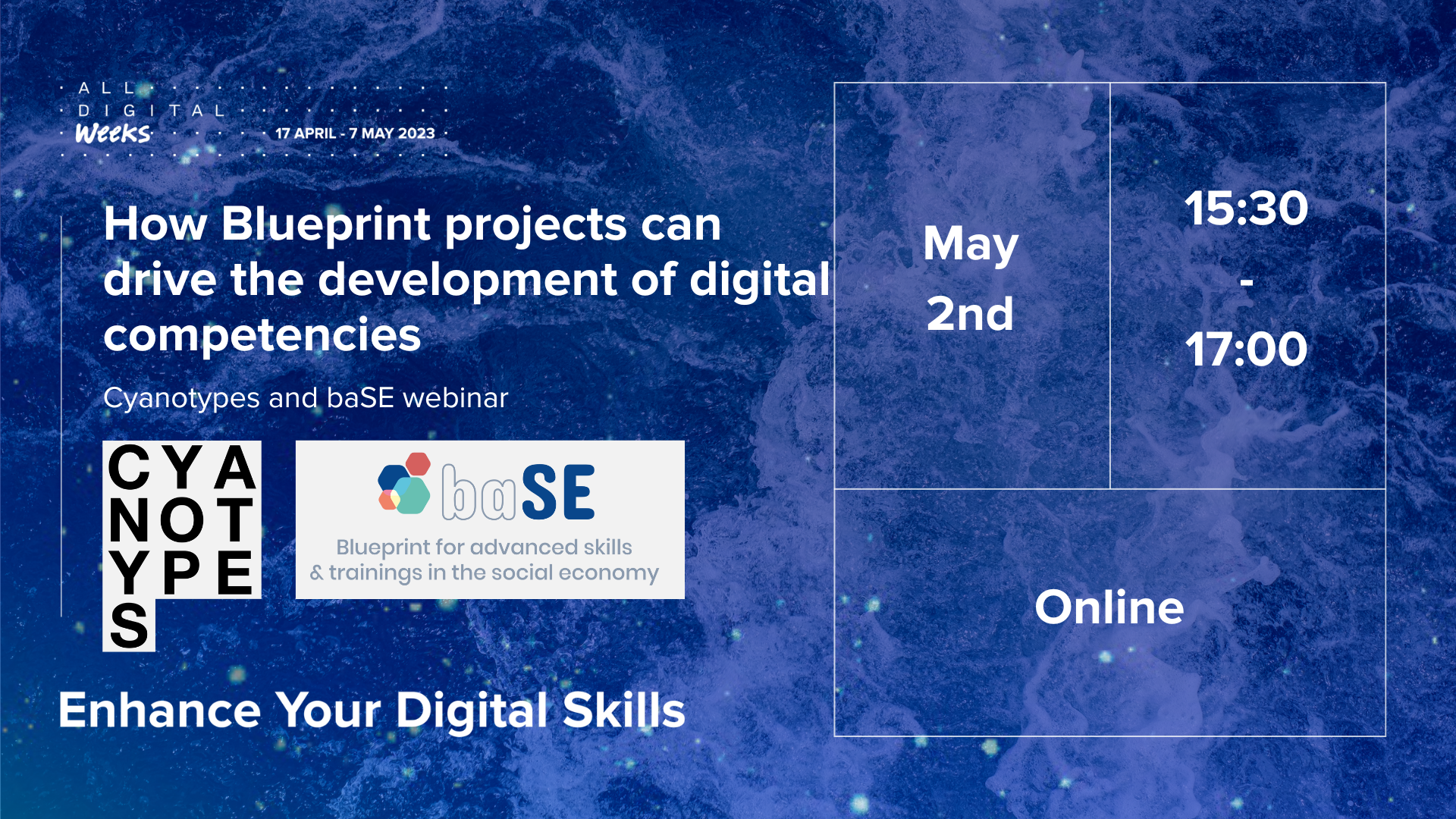 Cyanotypes and baSE webinar: How Blueprint projects can drive the development of digital competencies
119
119 people viewed this event.
WEBINAR
In the context of the  ALL DIGITAL Weeks 2023 campaign, we are delighted to present two Erasmus+ Blueprints projects: CYANOTYPES for the Creative and Cultural Industries and baSE for the Social Economy Ecosystem.
The European Skills Agenda 2020 has confirmed the Blueprint as a key initiative to create new strategic approaches and cooperation for concrete skills development solutions in the industrial ecosystems, including Proximity and social economy ecosystem, as introduced by the updated EU industrial policy.
The main purposes of the Blueprint are:
Develop a sector skills strategy
Design concrete education & training solutions
Set up a long-term action plan
Address skills shortages and unemployment.
Cyanotypes is an EU project which aims at supporting the co-creation and delivery of a training programme with concrete trans-national skills modules covering the spectrum of diverse qualifications involving VET levels (EQF levels 3 to 5) and tertiary levels (EQF levels 6 to 8), as well as providing inputs for workplace training and microlearning for existing and new occupational profiles.
The baSE project aims at setting up an alliance for Sectoral Cooperation on Skills for the Social Economy and proximity ecosystem, involving a broad range of key stakeholders: companies, education, and training providers, research institutions, social partners as well as sector experts. Building on the solid foundations provided by previous and ongoing sector level initiatives and research to address skills mismatches and provide new skills regarding occupational profiles in the SE sector.
OUTCOMES
The event aims at comparing the methodology between the two Blueprint projects in understanding how to approach a skills mapping exercise in a defined sector, especially with digital competences for these sectors.
AGENDA
Moderator:
Claudia Matera, Chief Development Officer, ALL DIGITAL
15.30-15.35 – Opening
Peter Palvolgy, ALL DIGITAL CEO
15.35-15.45 – Cyanotypes project overview
David Crombie, HKU – Hogeschool voor de Kunsten Utrecht, Cyanotypes project coordinator
15.45-15.55 – baSE project overview
Project coordinator (tbc)
 15.55-16.15 – baSE's research methodology and results
Francesco De Rosa, Senior Expert Diesis Network
16.15-16.35 Cyanotypes' research methodology
ECBN member representative
 16.35-16.50 Q&A
 16.50-17.00 Closing remarks
Additional Details
Online or Hybrid event - Yes
Number of participants - 30