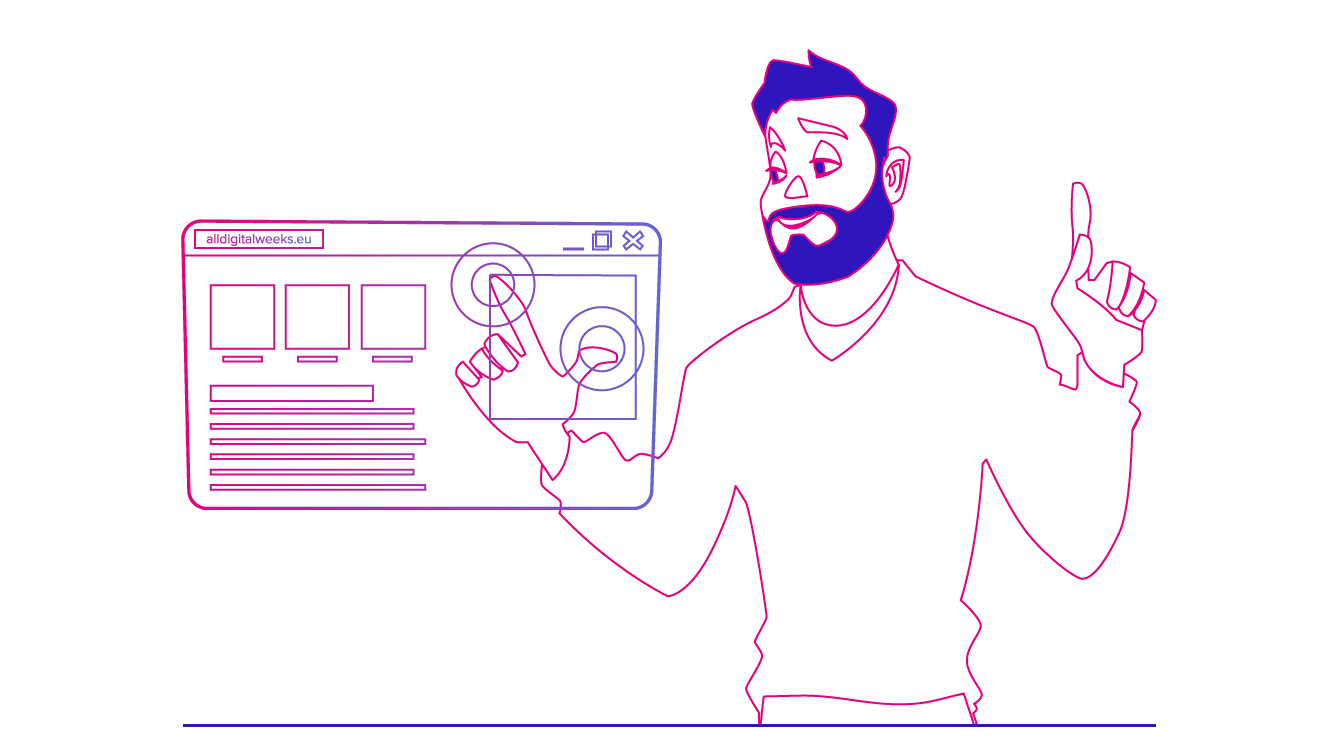 Anyone can JOIN the campaign by
organising an online/offline event, training, workshop or relevant activity focusing on digital skills, taking place during 17 April – 7 May 2023
putting it on the map
promoting the campaign and value of digital skills, sharing their stories, photos and videos through their social media channels and website using the hashtags #ADWeeks2023 #AllDigitalWeeks
The three weeks of the campaign will focus on the following specific core themes under which all the training and events will be organised at international and national level across Europe:
Digital Skills for "Equity, Diversity and Inclusion'' – from basic to advanced

Sub themes: Digital skills for life, employment, and reskilling for all
Sub themes: migration, democratisation, gender gap, ethnicity

DigComp and Digital Skills Certifications
(MyDigiSkills, European Digital Skills Certificate, DigComp Hub)
Digital media literacy and culture
Cybersecurity and safer internet
Digital Skills for Environment and Sustainability
(reference to Twin Transition, GreenComp, SDGs)
Digital Skills for specific sectors
(libraries, cultural and creative industries, transportation, health…).
Strategic Partners



















We invite European civil society organisations, umbrella organisations, or those with capacity to have a big regional or national reach to join as partners of the campaign.
Promote the campaign and planned activities to your network and raise awareness on the issues tackled by the campaign.
Organise an international event in English and have it featured in the ALL DIGITAL Weeks 2022 agenda
Encourage local organisations to add their events on the map
Tell us about your activities! Write a blog about the campaign with an overview of what has happened in across your network, highlighting best/most interesting events and/or activities. Interesting news will be published here on our website and promoted through ALL DIGITAL's social media accounts.
National Coordinators




















The National Coordinator tasks will be to:
• promote the ALL DIGITAL Weeks campaign online and offline;
• liaise with relevant policymakers, stakeholders, partners;
• organise an online info session on the AD Weeks campaign;
• report on the campaign impact, outreach and performed activities.
The National Coordinator will:
• have an active role as the national point of contact for the campaign in their country;
• increase the visibility of their organisation through Social media exposure and featuring in
the ALL DIGITAL Weeks website (article/report/event);
• have their event featured on the ALL DIGITAL Weeks 2023 calendar;
• have the possibility to win the ALL DIGITAL Awards created in the context of the campaign.
Local Partners
We invite digital competence centres, VET providers, lifelong learning organisations, youth organisations, schools, libraries, social enterprises and anyone else interested, to get involved by organising relevant events within All Digital Weeks .
What event could it be?  Anything on the topic of the campaign from consultations, workshops, testing digital skills levels, to training courses, hackathons, and conferences. See some examples of activities HERE.
Participants
Browse through the events available in your country and join one of them!
If no training is available in your city/town, you can still use some of the available tools and resources to assess you current skills or gain new ones.
Support the campaign by spreading the word about it offline and on social media with the hashtag #ADWeeks2023
Supporters
Should you wish to become a sponsor of the All Digital Weeks campaign, you can do so in a number of ways. You could support national networks in the country/countries, in which you operate, by helping with local promotion or PR, through direct sponsorship, or you could support the campaign centrally.
ALL DIGITAL Weeks 2023 will run over 3 weeks from 17 April until 7 May 2023. The campaign will be endorsed by the European Commission, involve international and national partners, and participating organisations in different European countries. 
#ADWeeks2023
#AllDigitalWeeks
Events accepted from: 28/02/2023
To add events on the map you must be registered on the ALL DIGITAL Weeks website. If you are already registered you must log in first.
Access and contribute to the growth of the all digital community
You can submit as many events you need 
Please don't hesitate to contact us:
for any inquiries on supporting our campaign
for any inquiries on having your news items published on the All Digital Weeks website